Protect Yourself from the Unknown
Auto Insurance
At Energy Capital, we care about the safety and financial well-being of our members. Proof of full coverage auto insurance is required on all auto loans. Conveniently update your auto insurance here: www.imcovered.com/energycapital    
GAP Coverage
If your vehicle is stolen, accidentally damaged beyond repair, or otherwise declared an insured total loss, most standard auto policies only cover the actual cash value of your vehicle, less your deductible. Unfortunately, you remain financially liable for any shortfall between the net insurance settlement and what you owe on your loan. You could owe thousands of dollars on a vehicle that you no longer have. GAP protection releases you from the burden of paying off a loan on a vehicle you no longer have. In addition, it protects your personal credit rating as well as provides peace of mind for very little investment.
Extended Warranty
Protection from the unexpected. Your vehicle is not only an investment; it's your transportation lifeline. With our protection plan, you have the peace of mind knowing your investment is protected. Coverage also includes roadside assistance, rental vehicle assistance, tire road hazard, and trip interruption.
ECCU members have saved $455,000 with warranty claims with an average savings of $1,351 per claim: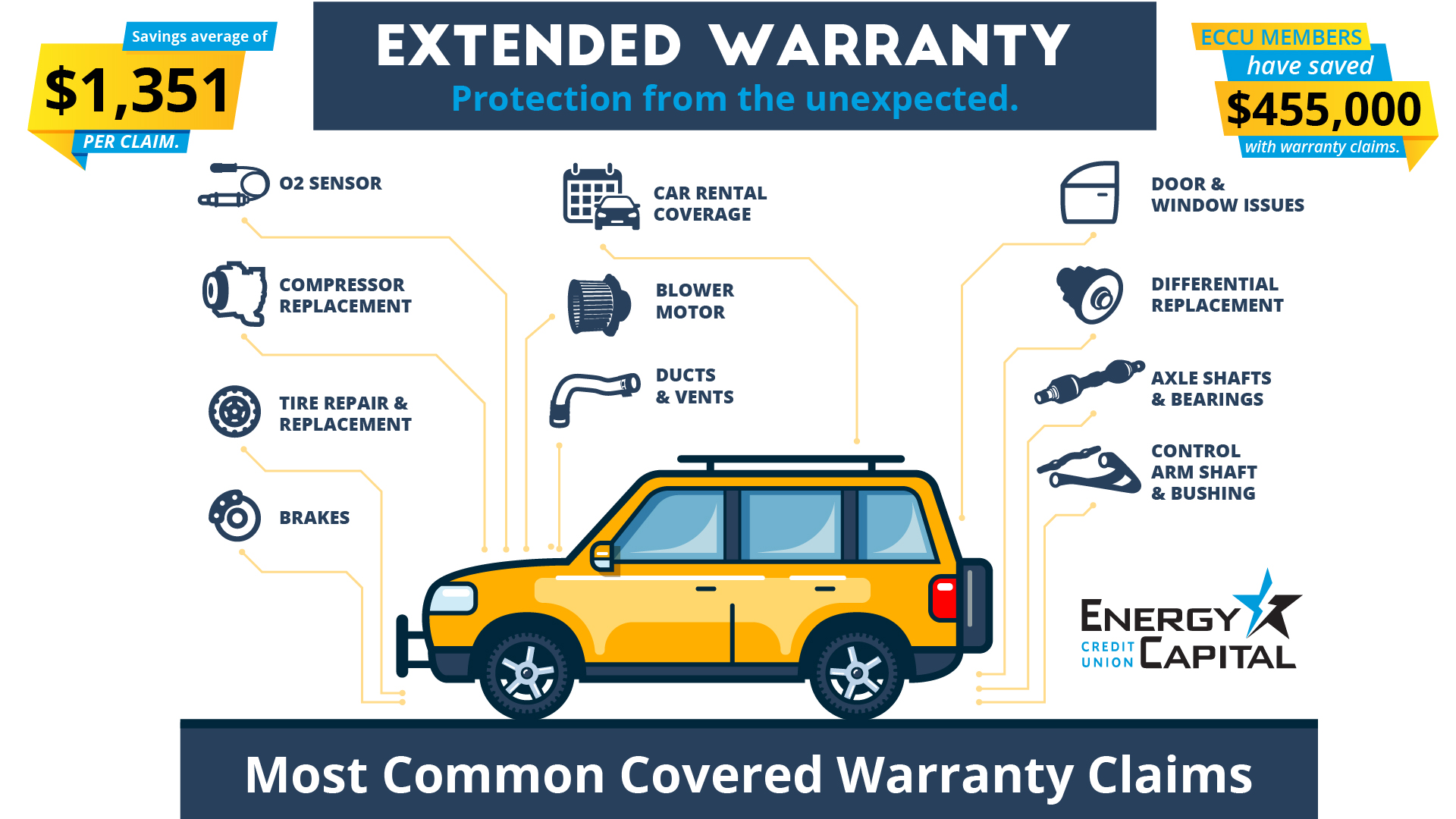 Debt Protection
Life can be wonderful, but it can also get complicated when unexpected things happen. Protecting your loan balance or loan payments against death, disability, or involuntary unemployment could protect your finances.
Life Plus adds protection for financially-stressful life events  such as accidental dismemberment, terminal illness, hospitalization, family medical leave, and the loss of life of a non-protected dependent. This protection could cancel your loan balance or loan payments up to the contract maximums. Protect your loan payments today so you can worry about less tomorrow. 
It is simple to apply for Debt Protection, and it is voluntary. Plus, it won't effect your loan approval. 
Vehicle Multi Shield Protection
This coverage protects you from tire blowouts, nails, glass, potholes, and any other normal road hazard.
Coverage includes tire repair or replacement, wheel repair, or replacement and also covers additional fees associated such as mounting, balancing, labor and sales tax. With this protection, you are also automatically covered for Windshield Repair, Dent & Door Ding Repairs, and 24/7 Emergency Roadside Assistance.
Vehicle Multi Shield Protection will give you the peace of mind knowing that your vehicle is covered should you encounter an everyday road hazard.